…Prof. Herbert Zech in a detailed interview in our Fertility-Treatment-BLOG:
Professor Zech, already 29 years ago you have been on everyone's lips in Vorarlberg, South Tyrol, Switzerland and Southern Germany after having achieved the first pregnancies following IVF treatment. What has happened since then?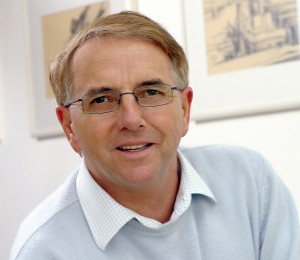 Prof. Dr Herbert Zech
It is true that since I have started my medical work, we have been successfully performing fertility treatment first at the University of Innsbruck (1981-1983), and then, since the end of 1984 in Bregenz. The key factor in this success was, above all, our tremendous commitment and hard work. At that time there was no possibility to monitor and trigger ovulation by drug treatment in order to allow egg retrieval to be performed at a specific moment.
We therefore needed to rely on the "natural" onset of ovulation, which in turn meant that we had to work almost round-the-clock. To this end, we also performed egg retrieval during night time, for instance after midnight or in the morning around five so as to create optimal conditions to achieve a pregnancy.
And this is how we achieved the birth of the first "test-tube-babies" in Austria – 1983 in Tyrol and 1985 in Vorarlberg. At that time, this was a real sensation, and of course there was considerable press interest in the issue.

What do Vorarlberg's gynecologists, urologists and general practitioners think about the development in the field of fertility treatment and, above all, what do they think about your amazing successes?
Prof. Zech: During the past 30 years, our IVF Center in Bregenz has developed from a relatively small special unit (about 150 m2) for fertility treatment (we started as a team of three: my wife, an assistant and I) into a large center with currently 60 specialists which is now accommodated on a floor area of 2.000 square meters.
On the occasion of a visit to our premises, Prim. PD Dr. Rimbach (Head of the Gynecology and Obstetrics Department in the Feldkirch Federal Hospital) ungrudgingly observed: "You are working in another league, comparable to the Soccer Champions League. You dispose of cutting-edge equipment and employ highly qualified specialists".
Meanwhile, you have built-up and operate IVF Centers in several European countries and also outside Europe. Do scientific publications and papers in renowned specialist journals play a key part in your success story?
Prof. Zech: Owing to the fact that we are very successful in our scientific work and that our outstanding findings have been published in internationally recognized scientific journals, more and more physicians have become aware of us and have asked us to cooperate with them, so that, over the years, we have been able to gain specialists (such as medical specialists and biologists) from all over Austria and abroad.
In different Internet forums on fertility treatment and IVF there are almost only positive comments on your IVF Centers. Your work and your scientific commitment are also highly appreciated by your colleagues. How would you describe your team's research activities?
Prof. Zech: Daily team meetings are part of our working routine. We critically review our results and constantly try to further improve them by regularly discussing these issues within the team.
The way to achieve this, of course, is to critically evaluate and follow up the outcomes as well as to put forward ideas on how to enhance further developments. My sons as well as myself and other members of our team, such as Prof. Dr. Spitzer in Salzburg, the Medical Director of our IVF Center in Pilsen, Ph.D. Libor Hradecký as well as PHD Renáta Krmíčková have achieved their postdoctoral qualification (habilitation), thus providing evidence of their ability to work scientifically. In this way, many of our ideas have already established a foothold on an international scale. (To learn more, please refer to our BLOG post "On the trail of Lindbergh")
Owing to the optimal connection to the German and Swiss road network, the
IVF Center Prof. Zech in Bregenz on Lake Constance provides the best conditions for patients coming from these countries. Was Bregenz deliberately chosen as location site?
Prof. Zech: Yes, in the early Eighties, I have already recognized the importance of dealing with the issue of unwanted childlessness, and in this context also anticipated the need for high specialization. Bregenz as the clinic site was chosen for strategic reasons, which has subsequently proven to be a wise decision.

Your success rates apparently rank among the world's top 5%. Is this partly due to your research activities?
Prof. Zech: Only by constantly reviewing your activities, compiling statistics on the results achieved and by working according to internationally recognized criteria as well as by presenting the findings to a jury of experts and publishing them in top-ranked scientific journals will you be able to know where you are and be in a position to actually evaluate your own results. Without engaging in research, you merely perform medical activities in the classical sense – which of course is also important – but those who want to be at the top and want to actively contribute to further development and innovation need to compare their results with those of international IVF units.
May I use an example from the world of football: As for the success ratio, your IVF centers are playing in the 'Champions League'. How did you manage to maintain this outstanding position over decades?
Prof. Zech: All the members of our family are working in reproductive medicine and also our children are scientifically and clinically involved with the subject matter. Therefore, it is not taboo for us to discuss the issue within our family and motivate each other even in our leisure time. Enjoyment of work is the most important driving force for sustained success.
Artificial Insemination and the related assisted reproductive techniques, such as Preimplantation Genetic Diagnosis, Cryopreservation of oocytes, spermatozoa, embryos at all stages of development, as well as Egg Donation and Fertility Preservation / "Social Freezing" are being used increasingly. Where do you offer these treatment options and what are the necessary requirements?
Prof. Zech: Due to different legal provisions in various European and non-European countries, we have decided to offer the aforementioned treatments to all our patients who may need them. We are committed to these therapies which have been clearly defined in our "Code of Conduct". Due to the fact that some of the assisted reproductive techniques are not permitted in Austria, we have decided to establish clinics abroad, in order to be able to offer a possibility of treatment there.
You and your team are specialized in dealing with the most demanding infertility problems in couples (for example specific diseases in men and women etc.). In this context, your centers rank among the world's leading IVF clinics, which is confirmed by numerous representatives in the field of medically assisted procreation. How do you keep in touch with your colleagues from all over the world?
style="text-decoration:underline;">Prof. Zech: Not only do we organize national scientific conferences on a regular basis, we are also involved in the organization of international congresses. My son for example, had the honor of acting as Congress President and organizing an international symposium on Preimplantation Genetic Diagnosis in the Festspielhaus Bregenz with hundreds of participants. The 'Crème de la Crème' of internationally renowned scientific personalities could not only listen to first-class lectures, but did also appreciate and enjoy the high-performance Congress Center Bregenz and the infrastructure offered by the city and the adjacent Lake of Constance region.
Many thanks for the interview.
---
← Home
→ Contact