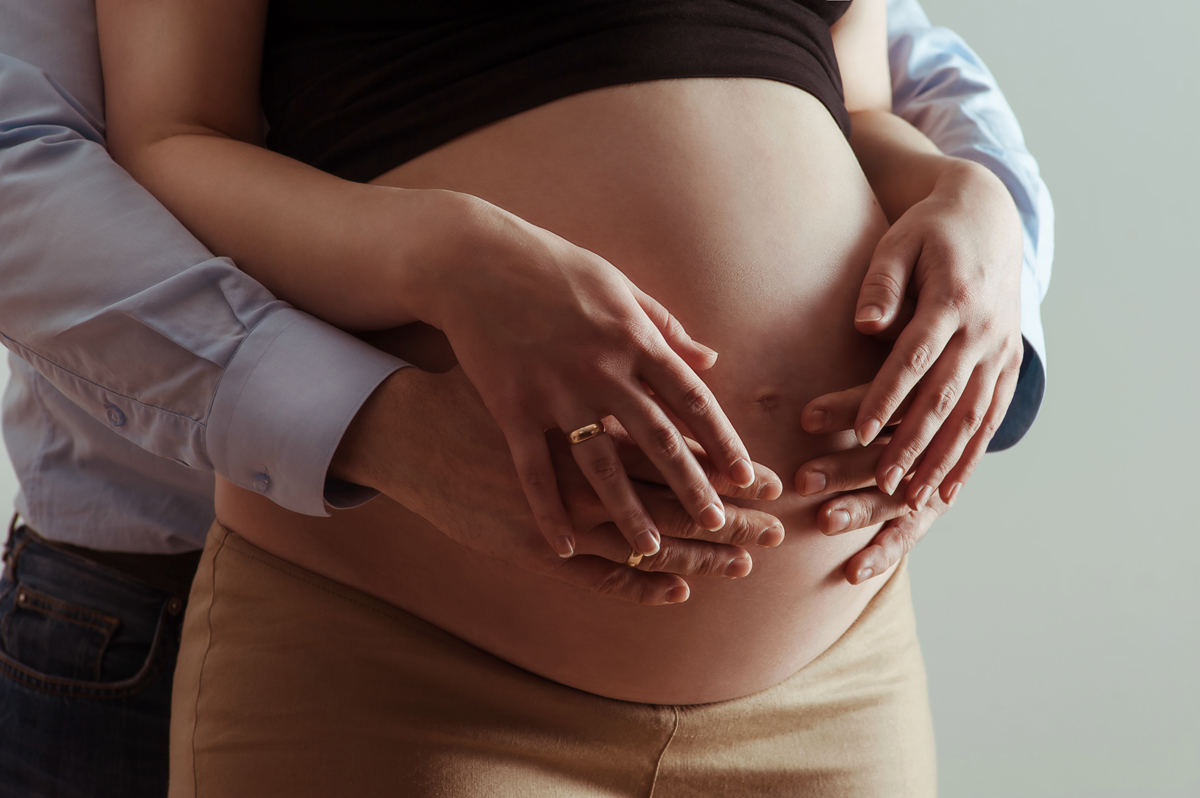 Icon Image | Photo: Shutterstock
Of course, patients often ask me about pregnancy rates achieved by our IVF centers. Quite often this question is linked with the notion that the pregnancy rate can provide precise forecasts on the successful outcome of fertility treatment. Actually, a uniform definition does not exist. It is therefore necessary to make a clear differentiation. In order to assess a couple's chances for a successful treatment outcome, it is always crucial to consider their personal situation.
What exactly does this mean?
One pregnancy is not just like another
Pregnancy may be detected by biochemical testing (detecting the presence of human chorionic gonadotropin = hCG in the blood), or it may be visually confirmed (using ultrasound, e.g. detection of fetal heartbeat). If the pregnancy can be confirmed visually, this is referred to as clinical pregnancy (rate). Not every pregnancy test that comes back positive means that there will be a vital pregnancy. Thus, the clinical pregnancy rate is still by far the more reliable parameter.
Pregnancy rate alone is not sufficient
It must be noted that the pregnancy rate alone is not particularly meaningful as a parameter of success. What matters are the reference points with respect to the pregnancy rate in the context of fertility treatment, such as the number of initiated cycles or the number of cycles involving the actual transfer of an embryo. The pregnancy rate may also be depicted by taking into account the number of pick-ups performed (egg retrievals). Placing the clinical pregnancy rate in relation to embryo transfers is the most common way of determining the success rate.
Many factors have an impact on the pregnancy rate
We should remember, however, that the pregnancy rate is decisively affected by numerous factors. This includes, inter alia, the age of the woman. There is an age-related increase in genetically-compromised oocytes, thus lessening the chances of a successful pregnancy (see chart). Thus, in appropriate indications, there is the possibility to carry out a genetic analysis (PGD/PGS) in the context of the IVF treatment. This serves the purpose of removing cell material from an oocyte or an embryo in order to examine it for the presence of genetic disorders prior to its transfer into the uterus. (to learn more, please refer to our Special-Topic "Genetics in the context of fertility treatment").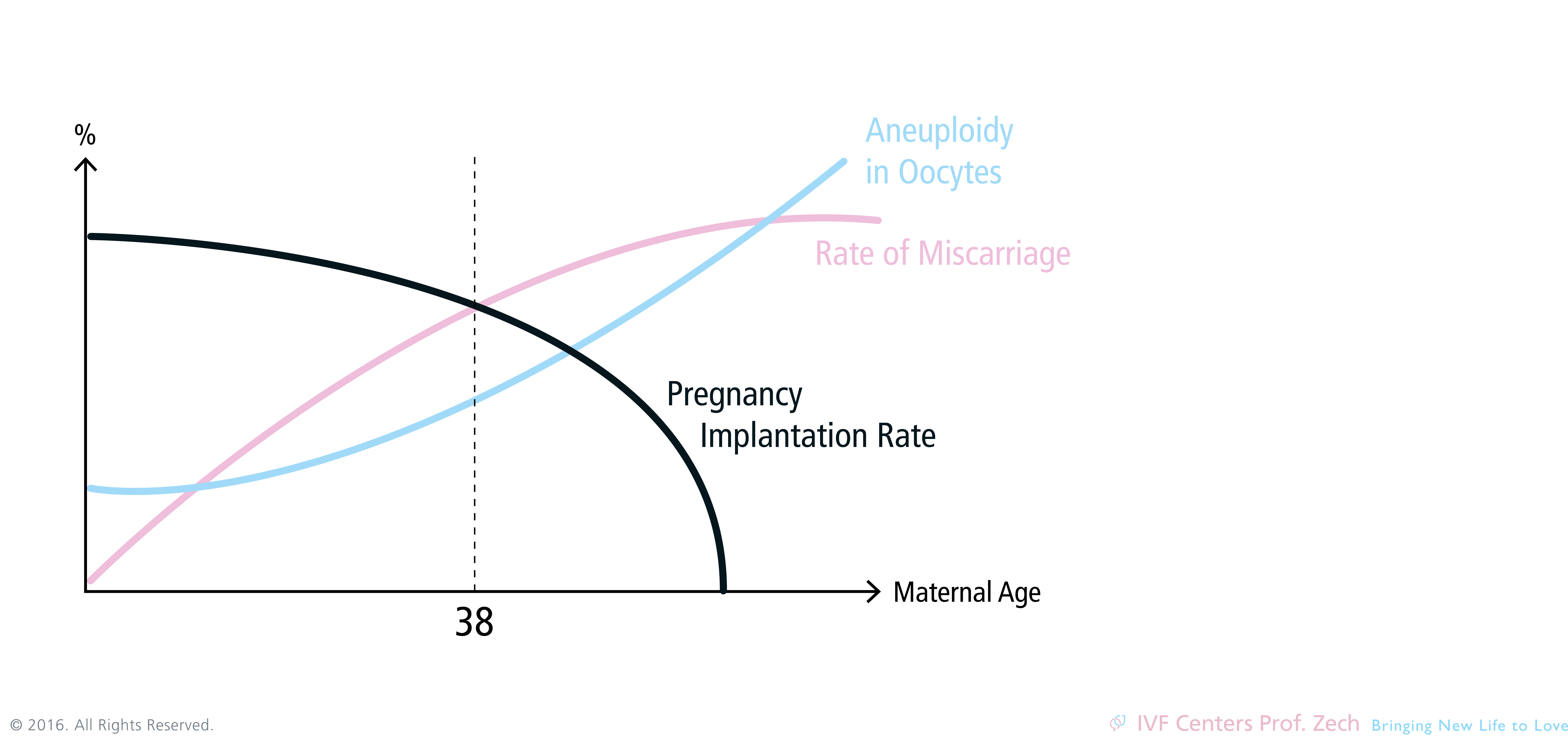 Chart | Prospects of achieving a successful pregnancy in correlation with the age of the woman
Other factors having an impact on the pregnancy rate such as the quality of sperm used for fertilizing the oocytes as well as the development stage of the embryos transferred (ideal: blastocyst = fertilized oocyte on day 5 of embryonic development) are of equal importance. Significantly better pregnancy rates can be achieved by transferring a so-called top blastocyst, i.e. a very well developed blastocyst according to the morphological criteria by Gardner. Here, too, it is important to bear in mind that the probability of obtaining good-quality blastocysts declines with increasing female age.
This "age-effect" refers to the age of the woman at the time of hormonal stimulation or egg retrieval. Hence, success rates for egg donation are very good, even in women aged 40 to 45 (45 years corresponds to the statutory age limit for egg recipients in Austria, in the Czech Republic the age limit is <50 years). This also applies in the event that young women opt for fertility preservation and have some of their oocytes retrieved and preserved for a certain time (cryopreservation). If applicable, this represents an option for achieving a future pregnancy through IVF using one's own "younger" oocytes. (to learn more, please refer to our Special-Topic "Social Freezing / Medical Freezing – Oocyte preservation").
In fact, there is no such thing as just ONE pregnancy rate associated with certain prospects of success. A therapy that is especially tailored to the patients' needs should therefore always take center stage. Thus, we are in a position to give our patients a real chance of getting pregnant and giving birth to a child.
---
Links:
» Success rate – What to look for
(Topic-Series | https://www.fertility-treatment-blog.com)
(Start page | https://www.fertility-treatment-blog.com)
(Page | https://www.fertility-treatment-blog.com)
---