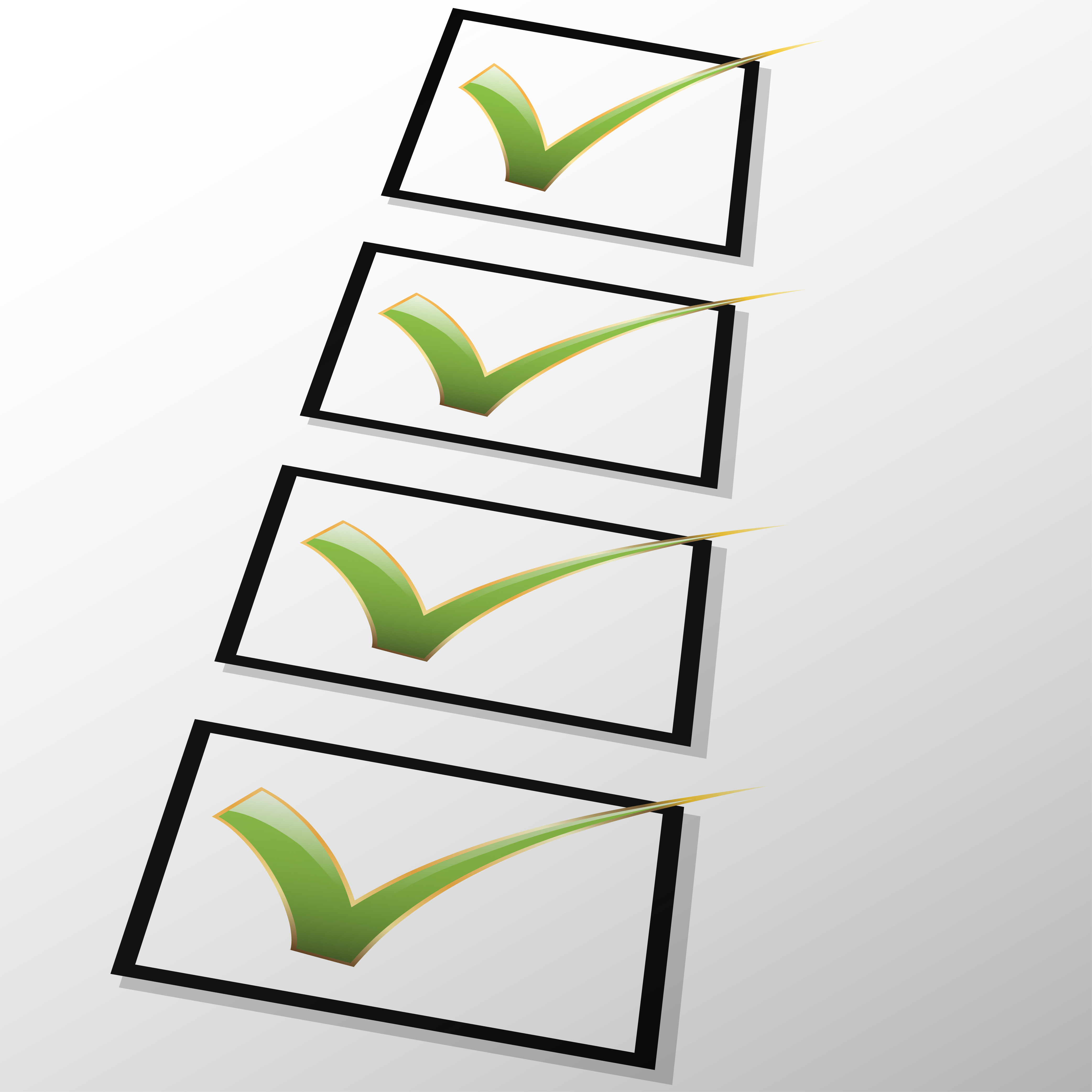 Icon image | Photo: Shutterstock
When it comes to choosing an IVF center, most people´s decisions are based on the pregnancy rate obtained by the center in question. This is quite understandable. However, one should be careful not to rely on one single success parameter, but first ask the following question: "What can we expect from the IVF center of our choice?"
This means that certain requirements pertaining to the IVF center need to be clarified in advance, thus ensuring that the treatment provided is suitable to bring about a successful pregnancy outcome.
Prof. Dr. Herbert Zech, an experienced physician and founder of the IVF centers of the same name, answers to the most commonly asked questions by couples seeking fertility support.
"How experienced is your IVF center?"
Prof. Zech: Since the foundation of our IVF centers in 1984, many infertile couples have been rewarded for their confidence in our work. Their dream of having a child came true. Thus, we can benefit from more than three decades of experience in reproductive medicine, a field which we have played a decisive role in by developing and implementing high quality standards and innovative technologies, and, last but not least, by our scientific commitment. Thanks to our clinics in various locations throughout Europe, we can provide our patients with a wide range of diagnostic and therapeutic options that are exactly tailored to their individual situation and which we have been applying for many years in a precise and secure way.
"Can your IVF center rely on sufficiently trained personnel?"
Prof. Zech: Our physicians, biologists and medical assistants are trained centrally in order to apply the institute's own techniques on the basis of the latest scientific knowledge and developments in the field of reproductive medicine. This is recorded and documented in a training protocol. In the sense of a common patient care, we regularly offer certified training events for external physicians and biologists. Moreover, as an approved training center, we are the first place to turn for young colleagues from nearby hospitals. The quality of our treatments, therefore, does not refer to the expertise of just one person, but is characterized by the experience and commitment of our entire team and the exchange of ideas with external colleagues. All these measures are in line with our shared goal of lending our expert assistance and helping infertile couples realize their dream of having the child they longed for.
"How secure and efficient is treatment at your IVF center?"
Prof. Zech: Apart from complying with legal regulations and observing ethical and medical principles, patient well-being and the safety and health of all persons involved are always the principal focus in all our activities. A good example is the safe handling of the stimulation protocol.
The targeted administration of hormones is aimed at inducing the production of multiple follicles (each of them containing an oocyte), without putting the patient at risk of developing a severe form of ovarian hyper-stimulation syndrome. This is referred to as ovarian stimulation and is performed on the basis of a personalized stimulation plan. Ovarian stimulation requires appropriate preparation. On the one hand, it is necessary to determine the serum levels of various hormones (AMH, FSH, LH, estradiol). On the other hand, "Antral Follicle Count" AFC (= number of small follicles visible on ultrasound) is carried out by means of an ultrasound examination. In addition, ultrasound is used to examine the uterus in order to exactly determine the position of the ovaries and, for instance, to identify any existing myomas or polyps. The prediction of ovarian response in a woman undergoing IVF is based on the determination of the blood levels of various hormones, the "Antral Follicle Count" and the ultrasound examination of her uterus.
"What are the most important procedures involved in IVF treatment at our center?"
Prof. Zech: Based on our expertise, we want to assist infertile couples in achieving their goal of giving birth to a healthy child – and this "as early as the first treatment cycle". This includes creating optimum conditions prior to starting IVF therapy in order for the treatment to succeed at the first attempt.
This is why our medical approach is based on a detailed evaluation of oocytes and sperm cells, fertilization of the oocyte using ICSI/IMSI, extended embryo culture up to the blastocyst stage as well as an accurate assessment of the quality of the embryo and its implantation potential, before it is transferred to the uterine cavity.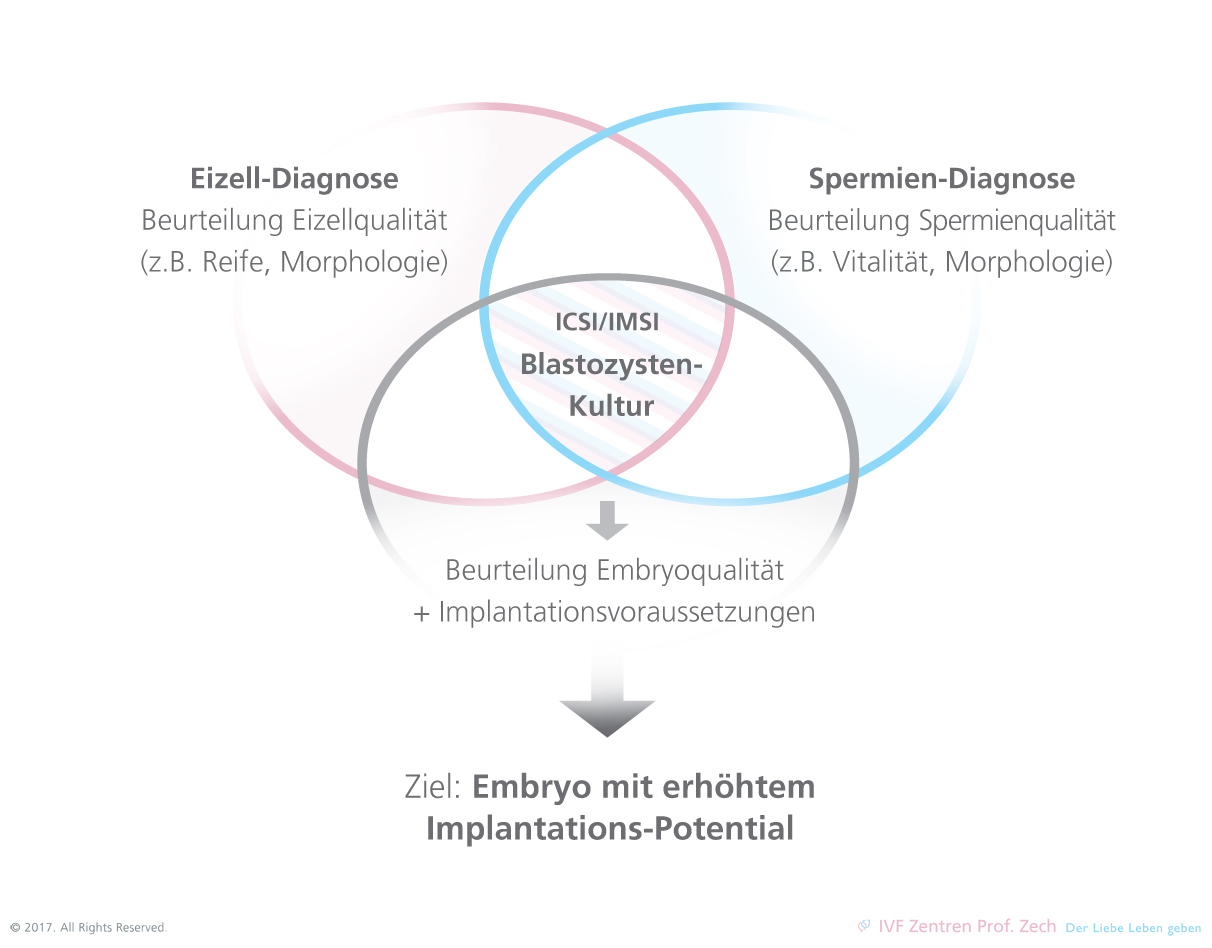 Illustration of the approach adopted by the IVF Centers Prof. Zech with respect to IVF treatment | © 2017 IVF Zentren Prof. Zech
In order to substantiate our experience, we would like to take blastocyst culture (to learn more, see the related links) as an example here. Until a few years ago, blastocyst culture, i.e. the development of the embryo in culture medium inside an incubator up to day 5 of embryonic development, met with fierce opposition. We have, however, placed our trust in our biologists and have succeeded in establishing this method at our IVF centers as of the year 1996. Back then, we performed the world's first systematic blastocyst culture. Blastocyst culture is now an acknowledged standard. Our credo is not to perform transfer if the embryo is not at the blastocyst stage – for otherwise, there will be no serious chance of achieving a pregnancy.
"What about our chances of getting pregnant following treatment at your IVF center?"
Prof. Zech: Our pregnancy rates and birth rates are among the leaders in international comparison as we attach great importance to scientifically proven diagnostic and therapeutic options and place the highest demands on our employees and well-established technologies used. The constant drive for improvement and introduction of technical innovations as well as the continuous updating of knowledge may enable the IVF center to substantially increase the success rates for patients undergoing treatment.
In summary, it can therefore be concluded that successful treatment outcome is depending on numerous factors. In any case, it is important to focus clearly upon the couple´s individual medical situation in relation to the therapeutic options and professional expertise of the IVF center of choice. Last but not least, it is paramount that patients place confidence in the expertise and dedication of the entire team.
---
Links:
» Success rate – What to look for
(Topic-Series | https://www.fertility-treatment-blog.com)
» Quality in IVF centers – Application and Relevance of a Quality Management System
(Post | https://www.fertility-treatment-blog.com)
» Close to nature – IVF treatment involving blastocyst culture
(Post | https://www.fertility-treatment-blog.com)
(Start page | https://www.fertility-treatment-blog.com)
(Page | https://www.fertility-treatment-blog.com)
---