"If there's a way to do it better: find it."
Thomas A. Edison (1847-1931)
If we interpret this quote by Thomas Edison, the continual pursuit of improvements may (as, for example, in the case of Edison) lead to new inventions or to the improvement of already existing technologies.
It is a matter of finding ways, enabling us to achieve a certain quality standard that is subject to constant review and improvement. This requires an established structure, for example with respect to the workflows in a company.

Here, experts are referring to quality management systems aiming, among other things, at implementing appropriate measures and building up a trusting relationship with customers.
What exactly is meant by this when dealing with the working procedures of an IVF center?
The example of the internationally aligned IVF Centers Prof. Zech shows that the Group's individual sites are subject to a central quality management system (s. ISO-Certificate). Norbert Feurstein (Management) knows what this means.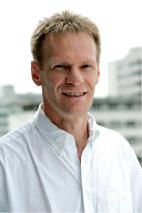 "Our quality management system provides us with a means of reflecting on workflows and rapidly implementing improvements. This enables us to efficiently establish and further develop quality standards at all our IVF centers. Such measures are subject to continuous internal and external review. Safe and effective therapies and the well-being of our patients are thereby at the very focus of our activities."

Quality in all areas
One of the core elements for the smooth functioning of a quality management system in IVF centers is the staff (see figure). The qualification of the employees and their commitment are crucial for the achievement of high quality standards and their continuous improvement. This includes the implementation of scientifically sound treatment methods and the compliance with national laws and EU directives.
The goal here is to ensure: quality in all areas – e.g. stringent hygiene regulations (e.g. clean laboratory environments) throughout the entire healthcare enterprise, use of state-of-the-art technology in the field of medicine and IT.
This is verified by official reviews that are carried out on a regular basis. In addition, all centers are subject to audits by official certification bodies (e.g. ISO-certification in accordance with ISO 9001).
Quality increases the chances of success
To sum up, the application of an efficient quality management system leads to greater transparency and provides security and trust. It enables couples concerned to undergo a professionally executed therapy complying with both national and international directives and standards. Structured and safe treatment steps help to increase the chances of a healthy pregnancy and the birth of a child.
---
Links:
» Home
(Start page | https://www.fertility-treatment-blog.com)
(Page | https://www.fertility-treatment-blog.com)
---